---
CD V-777A Radiation Detection Kit
---
Radiation Kits Main
Radiation Kits
CD V-777 Kit
CD V-777A Kit
CD V-777-1 Kit
CD V-777-2 Kit
CD V-777-4 Kit
CD V-755
High School Kit


Other Sets
CD V-781 Aerial Monitoring Set

CD V-757 Barrier
Demonstration Set

CD V-457 Class
Demo Set
Radiation Instruments
CD V-700
CD V-700 Specials
CD V-710
CD V-711
CD V-715
CD V-717
CD V-720
CD V-750 and Dosimeters
---
Back to Shelter Supplies Main
---
Back to Civil Defense Museum Main

Civil Defense Instruments were distributed to shelters and radiological monitoring
stations in kits. These "kit pages" show what instruments made up each type of kit.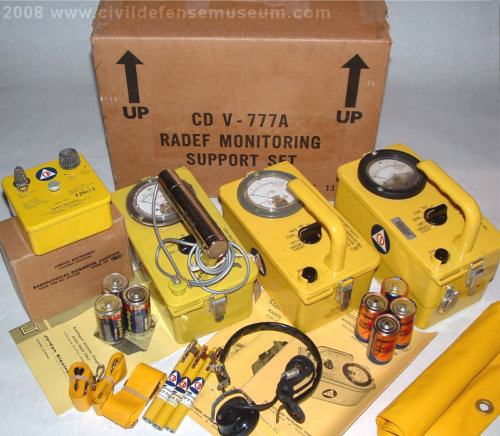 The CD V-777A "RADEF Monitoring Support Set" was a supplemental set to the CD V-777 set. This set was to supplement the CD V-777 set for use in radiological monitoring stations by adding the CD V-717 remote sensor survery meter. The CD V-717 would be used by placing the remote sensor outside the shelter area so outside radiation levels could be monitored without going outside the shelter. Chapter VIII, Annex 1 of DOD, OCD publication SM-11.23.2 "Radiological Defense, Planning and Operations Guide" revised March 1967 lists the contents for a CD V-777A kit as seen above, 1-CD V-700 Geiger counter, 1-CD V-715 Survey Meter, 1-CD V-717 Survey Meter, remote sensor, 3-CD V-742 Dosimeters and 1-CD V-750 Dosimeter Charger. The FEMA publication CPG 2-2 dated Sept 1991 also has a kit contents list for the CD V-777A it's the same as the above list but with 6-CD V-742 Dosimeters instead of 3.