CDV-755 High School Kit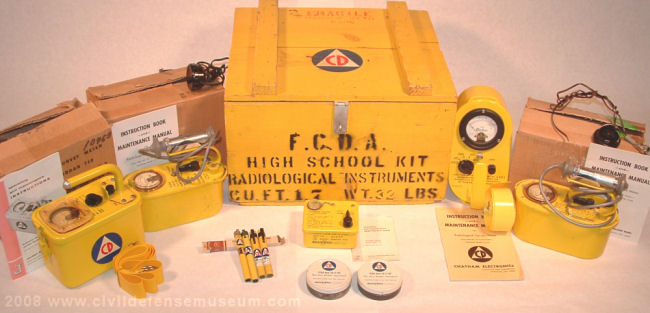 The CD V-755 High School Kits were made available to high schools in the late 1950s. The program was started in 1958 according to the FCDA 1958 Annual Report. There was no reference to the program to distribute the CD V-755 kit in the 1957 FCDA Annual Report.
From left to right in the above photo. Jordan CD V-710 Mod 2, Chatham CD V-700 Mod 3, (dosimeters) 2-CD V-138s, 1-CD V-730, 1-CD V-740, Jordan CD V-750 Mod 2, Chatham CD V-720 Mod 1 and an International Pump and Machine Works CD V-700 Mod 3. In front 2 Jordan CD V-787 10 Day Water Standards.
Thank You to Rob Stone of Portsmouth Ohio for the CD V-710 and CD V-720 shown in the photo. Another Thank You to William Bashaw III for the 2-CD V-787 water standards.
CD V-755 Information From The 1958 FCDA Annual Report
TRAINING, INFORMATION AND RESEARCH
As the result of Agency training programs some 2,500 instructors in radiological monitoring and 75,000 radiological meter readers had been trained by the end of the year.
In addition, a radiological defense high school program was developed in cooperation with the Office of Education, departments of education in the States, and State civil defense directors to:
1.Help high schools incorporate radiological defense education into their science courses, and
2. Improve the geographical distribution of radiation detection instruments. (The high school program is
not
and attempt to train teen-age radiological monitors for duty during a national emergency.)
Scheduled to start early in FY-1959, the program will include the distribution of a specially designed radiological instrument kit to 15,000 high schools throughout the United States. The kit consists of 4 survey meters, 4 dosimeters, 1 dosimeter charger, 2 containers of a low-intensity radiation source, batteries, and an instruction manual on using the instruments.
CD V-755 Kit Contents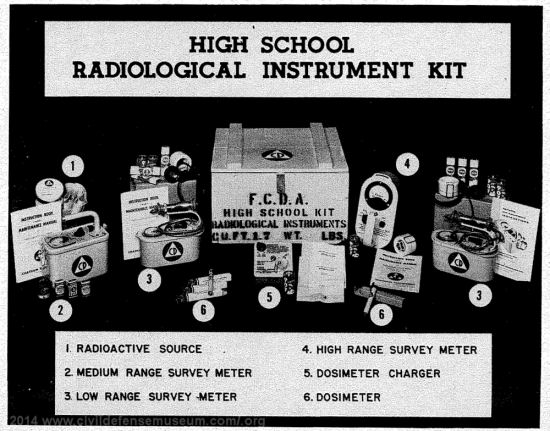 FCDA 1958 Annual Report Page 11 Click photo to see larger.
According to the documents (see links below) provided to me by two V-755 kit owners the contents of the V-755 kit were listed as....
2-CD V-700 Survey Meters
1-CD V-710 Survey Meter
1-CD V-720 Survey Meter
1-CD V-750 Dosimeter Charger
2-CD V-138 Dosimeters
1-CD V-730 Dosimeter
1-CD V-740 Dosimeter
2-CD V-787 Food And Water Comparison Standards (See below.)
CD V-755 High School Kit Documents From New York and Oregon
I thought these would be of interest since they are original 1958-1960 FCDA radiation instrument documents.
Files are between 150KB and 200Kb in size and are image files. I wish I had better scans but this is how they were sent to me.
FCDA Introduction Letter
Introduction To The FCDA High School Kit Of Radiological Instruments
November 15, 1962 State Of Oregon Memorandum
Memorandum From State Of Oregon Civil Defense About The High School Kit
FCDA Shipping Form 224B
This form has prices for the instruments on it. Dated September, 26 1958.
The CD V-138 Dosimeters were on backorder when the kit was delivered.
FCDA Shipping Form 224
This form has prices for the instruments on it. Dated May, 18 1960.
A year and a half later the CD V-138 Dosimeters were delivered!
University of New York Letter Page 1
Page 1 of a letter explaining why the CD V-755 Kit is being sent out.
University of New York Letter Page 2
Page 2 of the letter explaining the instruments in the kit.
CD V-787 Ten-day Water Standard
Here is a description of the CD V-787 taken from the University of New York Letter Page 2...
"The CD V-787 is a low intensity harmless radioactive comparison standard which provides a method of measuring radioactivity in food and drinking water by comparing it's reading against the beta-gamma concentration in a food or water sample with a beta-gamma geiger counter having a range of 0-50 mr/hr."
Special thanks to William Bashaw III for these two CD V-787s!
---
Captures from the film Radiological Defense