USSR / Russian Military
Fallout Calculators
Complete Set
Calculator - Carry Case - Manual
Issued in 1973
Front Cover Of Manual
Translation:
Slide Rule
CD (Civil Defense)
Description and the order of the use.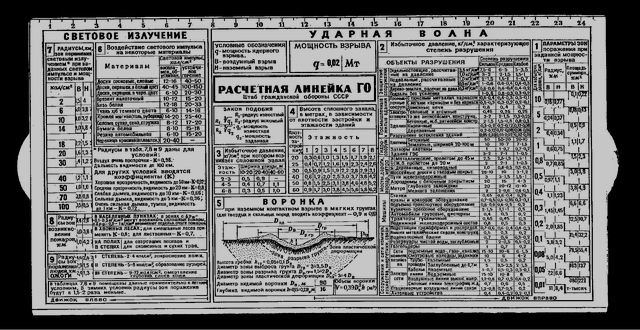 Front Of Calculator
Back Of Calculator
These were used in all air-raid shelters of civil defense in the territory of the USSR since 1973.With the
aid of this rule it was possible to calculate the zone of radioactive contamination after an atomic explosion,
radiation tolerances for the people, and the degree of the destruction of buildings and construction.
---
Front View
Measures 105 mm wide by 100 mm tall ( 4 1/8" x 3 7/8" )
Made of three layers, the bottom two are aluminum and the top is clear plastic.
The center silver ring is rotated by using the two silver knobs that are off center.
The center blue ring is moved by using the exposed serrated portion at the top of the calculator.
The outside silver ring is fixed.
I do not have any english translations for this calculator... anyone want to help?

Back View