British Military
Ministry Of Defence
Radiac Calculator
No. 1
6665-110060
Complete Set
Carry Case
Radiac Calculator No. 1 / Land
Radiac Calculator No. 1 / Water
Manufactured by: B.R.L.(Blundell Rules Limited) of England
Still operating as
Blundell-Harling Limited
This Calculator has dual use inside rings.
Remove middle clip and reverse for land or water use.
Note: The photograph above was taken when I owned two of these,
the older version now has a new home here.
Use this side for contamination over water.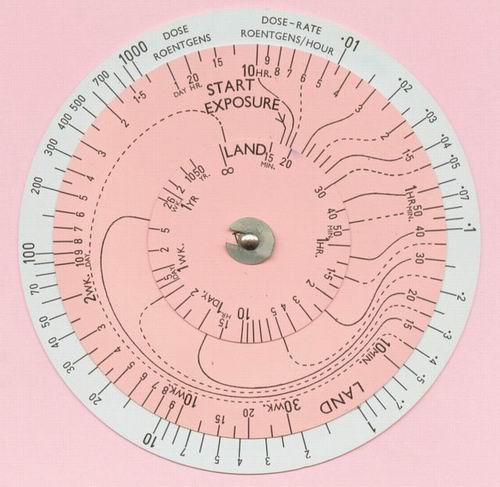 Use this side for contamination over land.
Instructions For Use.
Note:
This unit is marked B-R-L Weymouth, England
This would put it's manufacturing date between January 1956 and January 1964,
when the company became Blundell-Harling Limited.
The other calculator (now in Oak Ridge, Tennessee) was marked B-R-L Luton, England,
this would indicate a manufacturing date between 1947 and January 1956.