Atomic Energy
of
Canada Limited
Decay Calculator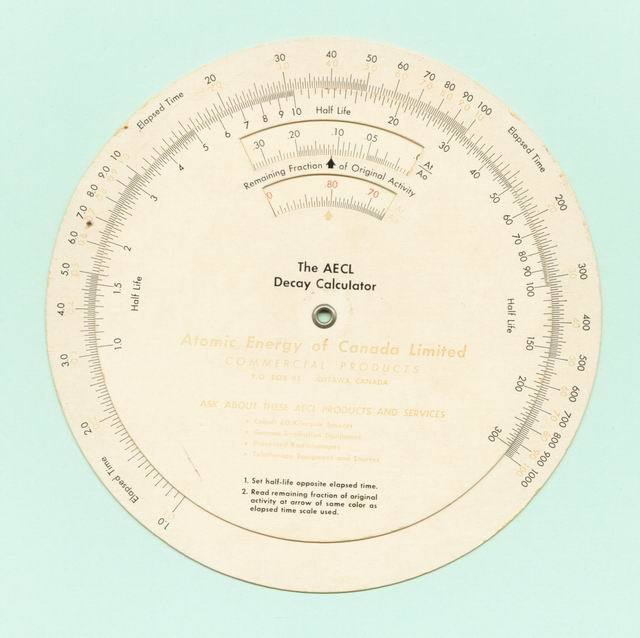 Front View
This calculator measures 5½ inches in diameter.
This calculator is a little faded after 40 years. The wording in the middle reads as follows:
Atomic Energy of Canada Limited
Commercial Products
P.O. Box 93 Ottawa, Canada
Ask about these AECL products and services
Cobalt 60 Kilocurie Sources
Gamma Irradiation Equipment
Processed Radioisotopes
Teletherapy Equipment and Sources

The two windows that show the remaining fraction of original activity correspond to the two scales
printed along the outer edge, the red scale is printed below the black scale around the edge, and
is read in the lower window.
Instructions printed at bottom of calculator:
Set half-life oppsite elapsed time.
Read remaining fraction of original activity at arrow of same color as elapsed time scale used.
Rear View
This side gives a list of radioisotopes and their half-lives, and the bottom has a chart to convert time
into a decimal format. Note at top where this "Canadian" unit was made, in September 1964.
This calculator was obtained with the help of Dr. Paul Frame of Oak Ridge Associated Universities'
Health Physics Historical Instrumentation Museum.