---
Fallout Shelter
Signs
---
Back to Civil Defense Museum Main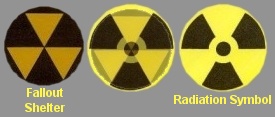 Fallout Shelter Sign - Radiation Symbol
The fallout shelter triangle symbol is often confused with international radiation symbol for obvious reasons (see image at right). The radiation symbol goes back to just after World War II. For a history of the radiation symbol (Trefoil) see Oak Ridge Associated Universities Health Physics Museum Page here. When I look at the radiation trefoil I see 3 "fan blades" radiating from the center, however, the fallout shelter triangle emblem has always looked to me like 3 triangular "arrows" pointing down instead of fan blades radiating out from the center.
Bill Geerhart put together an excellent article about the History of the Fallout Shelter Sign (Wish I had the time and could afford to research stuff like this) where he cites the "very first sign unveiling ceremony at the Westchester County Building in White Plains, New York at 148 Martine Avenue on October 4, 1961. Check out his article f you have time. He even interviewed the man was in charge of developing the sign.


Fallout Shelter Sign From Early Civil Defense Booklet.
I found this version of the sign in the DOD OCD "Family Guide Emergency Health Care" booklet dated "Revised 1963." I don't know if this is an "official" early version of the sign or just an artists version for that particular booklet. I have always found it interesting and thought it worth putting up here.

"Standard Fallout Shelter Signs" From Posting Fallout Shelter Signs Handbook.
FG-C-8.1 June 1964 Click here to see a scan of the page from the handbook.



Standard Fallout Shelter Signs

Type FS 1
14"x20" Metal Sign

Type FS 2
10"x14" Metal Sign
These 2 versions of the Fallout Shelter sign were the most frequently used. Both were posted on the exteriors of buildings with shelters. The Fallout Shelter Sign Posting Handbook lists the FS 1 as an exterior sign and the FS 2 as an interior sign.


Fallout Shelter Sign Adhesive Overlays.
Shelter signs came with adhesive overlays to mark capacity or more clearly point out the shelter locations. Here is a example of some overlays. These are some various scrap pieces of overlay sets I have that came with shelter signs. I do have some complete sheets of overlays but they are packed up inside a case of shelter signs that I have in my collection. The "capacity" circles were for adding capacity markings to the smaller FS 2 sign above. There were also Spanish and Samoan overlays as pointed out in the Fallout Shelter Sign Posting Handbook (see link to Handbook scan above.) The Spanish and Samoan shelter sign overlays are one of my most sought after items I have yet to locate for my collection.



Adhesive Backed Fallout Shelter Signs




There were also 9 versions of 7"x10" adhesive backed paper signs. This image is a scan from the DOD OCD Posting Fallout Shelter Signs booklet supplement FG-C-8.1A dated January 1970. The supplement says these signs can be used in lieu of the Type II interior metal shelter signs under certain conditions. The supplement also says the adhesive signs are intended primarily for interior marking, although in the event of a declared emergeny, they can be used for both interior and exterior marking of all available shelters.



Adhesive Backed Fallout Shelter Signs From My Collection

Here's an example of the adhesive backed paper signs I have in my collection now complete with the "In Corridor" sign.

A Couple Of Fallout Shelter Signs In Downtown Dallas.


Here are a couple of shelter signs in downtown Dallas. The old Dallas Public Library is a classic mid-century modern work with a shelter sign next to the loading dock door at the rear of the building. This building has been sitting vacant for years. The George Allen Courts Building has the "winning capacity" of any shelter sign I have ever seen. The capacity on the sign is 28,850! I have never seen a higher capacity number on a shelter sign. Click on any photo to see a larger version.

CD Booklets Referenced for this page.
1. DOD OCD "Family Guide Emergency Health Care" booklet Revised 1963.
2. DOD OCD Handbook of Instructions For Posting Fallout Shelter Signs FG-C-8.1 June 1964
3. DOD OCD Handbook of Instructions For Posting Fallout Shelter Signs Supplement FG-C-8.1A January 1970.